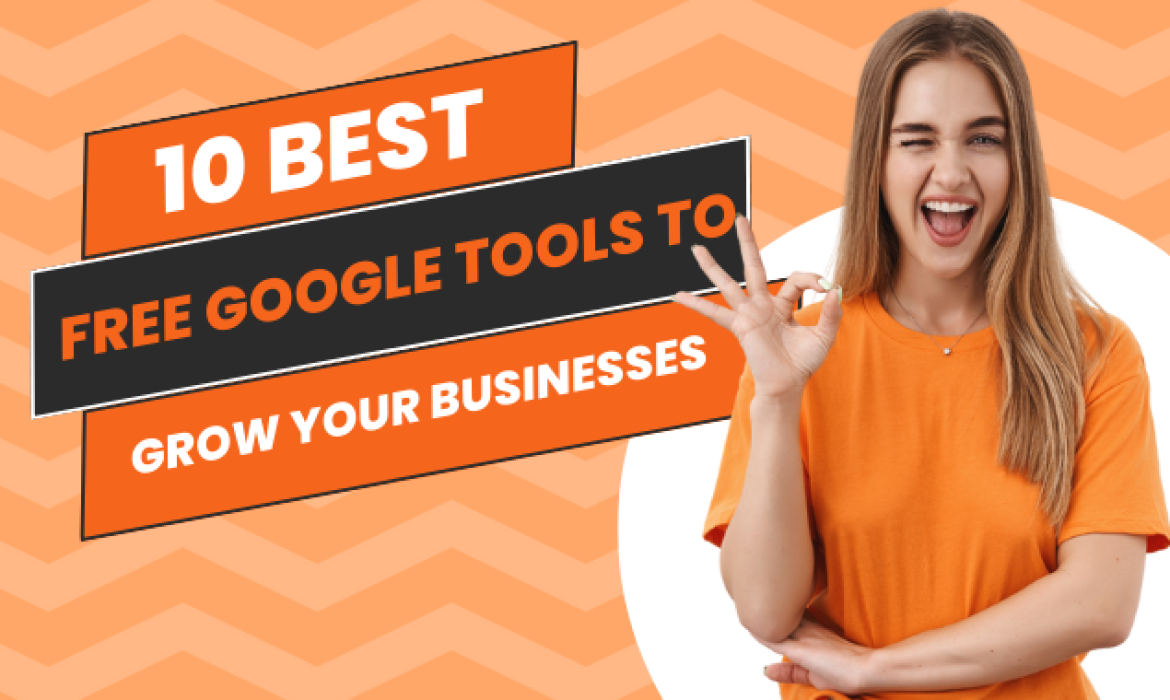 It is the nature of every business to accept the changes around them and evolve their marketing strategies accordingly. Nowadays, you have to be on your toes to improve the way your marketing campaigns are working and make them more effective. It will help you survive the tough competition in the market.The majority of businesses are using Google as a platform to improve the visibility of their brands. As a business owner, you might be aware of some widely used free Google tools such as Drive, Gmail, Maps, Google AdWords, etc. However, there are several powerful free tools owned by Google to assist companies in expanding their businesses.For the convenience of the user, all these tools need only one Gmail ID to sign up.The digital marketing services in Gurgaon help businesses improve their digital marketing campaigns by guiding them through these effective free Google tools. Let's discuss the 10 best free Google tools to grow your business.
A list of the 10 best free Google tools to grow your business
Google My Business: Google My Business has changed its name to Google's business profile. It is a power that gives every brand the required exposure in the global e-commerce market. Start using Google My Business to create a professional business profile. It will empower your business to reach the target audience when they are using Google Plus, Maps, and/or Google Search. Once you mark your presence in the online marketing world, you will start generating better profits and growing your business.
Think with Google: You need to understand how your marketing strategy is working. If you see your resources getting consumed unnecessarily, you can build instant strategies to avoid extra expenditure. Think with Google is a tool that helps marketers utilize their resources properly. It keeps a check on its advertising campaigns while maintaining the effectiveness of its brand visibility.For a hands-on experience with this tool, reach out to a trusted digital marketing company in Gurgaon.
Google Analytics: Marketers know the importance of SEO in the digital marketing field. However, you need to keep a constant check on how well the SEO is working for your campaign. Google Analytics help to gather data regarding their online campaigns to guide businesses in growth and expansion.Using this Google tool you will get an idea about your core demographics and how they are engaging with your website. Data from Google helps you categorize your potential customers by using their details.
Google AdWords: Are you not able to reach your target audience effectively? Google AdWords will help you get the attention of your potential customers and encourage them to associate with your brand. You can expand your website traffic several folds by investing in paid digital advertising of Google AdWords.
Google trends: Nowadays, people want to connect with the brand, not just by their marketing stuff. You need to understand the language of your consumers and use those terminologies in your advertising campaigns to grab their attention. Using Google Trends, you will know what terms other businesses in your niche are using to increase sales. You can modify the keywords that you are already using accordingly. If you have already been using some effective keywords for quite some time, you can use Google Trends to see if they are still relevant to current marketing trends.
Google Forms: To know more about your customers, and what they like and don't like, but you can't get those details from any of the online marketing tools, it's better to reach out to them directly with the same questions. Send Google forms to your potential customers or existing customers to understand what they prefer to buy, and which of your products and services need modification. Ask your loyal customers to fill out Google forms to understand why they are preparing your brand to shop for the same thing that is available with other companies etc.Use your selling point to gain new customers.
Keyword planner: A keyboard planner helps businesses find out what the appropriate keywords are that they can use to target their specific customer base. If you have created server keywords with trending terms in them, the keyboard will give you informed data about the SEO score of the keyword, how many searches are being made with the keyword, and how much you have to PPC for it. Getting all this relevant information will help you to make an informed decision for your business campaign. Are your customers using landscape or portrait mode more? Where is most of your target audience located? You will get answers to all these questions and more using a keyword planner.You would also get to know how your potential customers are shopping online.
Google Insights: Google Insights is a free Google tool that is beneficial for all types of businesses. Whether you are running your business for a long time or you have established in you one, you can use this tool to get an idea of how the keywords are working over some time. Business owners and marketers need to be aware that trends keep changing with every passing season. It would be beneficial for your business to use trending keywords to gain visibility in the market. Your online digital marketing strategy needs to be affected and optimized for current demand.
Google Data Studio: If you are investing in digital marketing campaigns for the first time, Google Data Studio can do wonders for your business. It is a tool just like Google Analytics. Everything and this free Google tool are simplified so that the data can be comprehended by those new to the digital marketing world. Once your business got started it is essential to keep an eye on its performance. With this tool, you will get to know how your website is performing and how much traffic you are getting.
Google Alerts: It is a very hectic task to run a business, regardless of its nature and size. With Google Alerts, marketers will stay in the loop about the performance of their keywords.Get information regarding your keyword in the search engine results with this tool. All you have to do is to mark an alert for the keywords you want to know about. It will also give you data regarding the use of the keyword. How often are your keywords used? What is the current trend of the keyword in the market? The alerts can be set at any time of the day, as per your preference.
Final words
As digital technology is a traditional marketing practice, companies are constantly trying to explore the ins and outs of online tools to support their digital marketing campaigns. If you want to open the doors to potential customers for your business, you must use these top free Google tools. To grow your business and reap the usefulness of these tools, you need a highly reputed digital marketing agency in Gurgaon. It doesn't matter if you are new in the marketing world or if your brand is quite old, nowadays every business needs technological innovations to expand there reach