Artificial Intelligence in Digital Marketing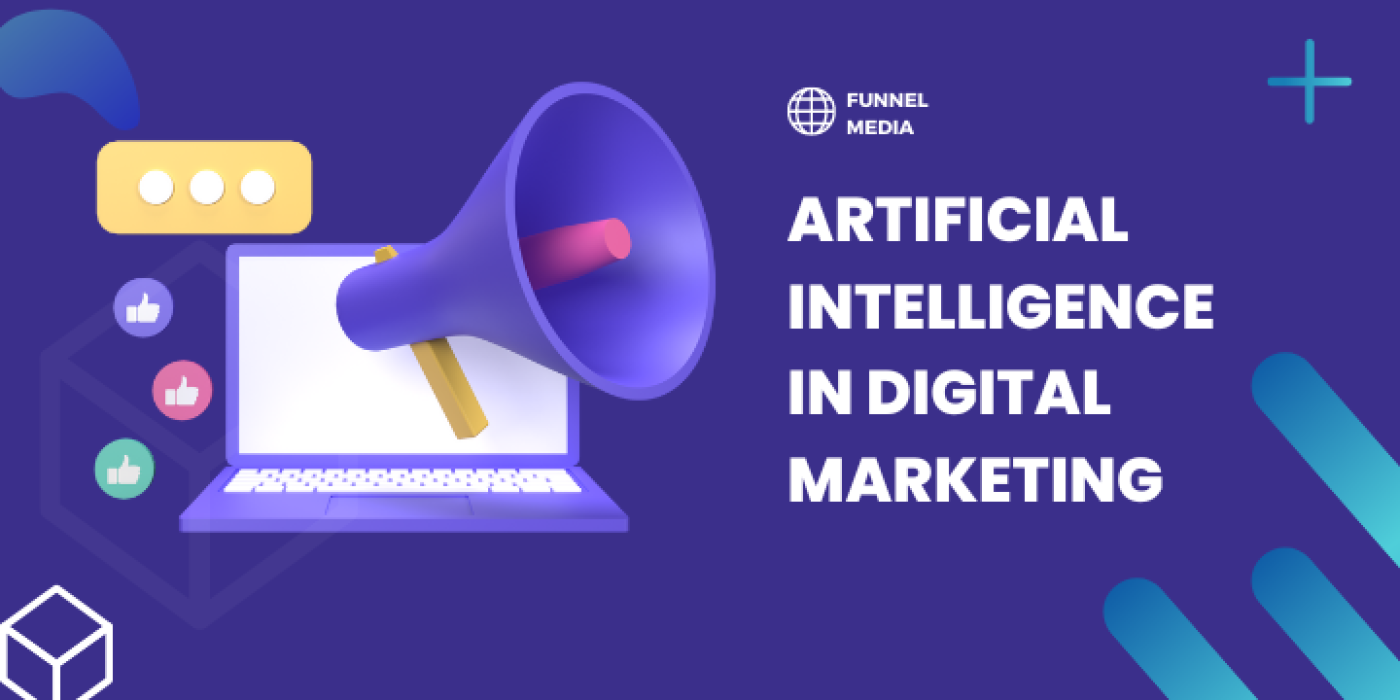 Artificial intelligence, over the last few years, has taken the world by storm. It is more focused on accounts and has greater precision for accuracy. This means it will result in greater work efficiency. AI can easily analyze people's data to get valuable insights. Home automation systems and GPS trackers are common examples of AI. It can easily adapt to a new input using the progressive learning algorithm. The use is now seen in all industries, including digital marketing. However, understanding AI can be a bit complicated. So you can connect with a good digital marketing agency that can help you with proper programs and plans, including AI that will work well for your business.
Read More: How To Increase Your E-Commerce Sales From Conversion Rate Optimisation (CRO)?
Use of AI in digital marketing
AI is quite effective for creating simulation models and proportioning the purchase process using the recommendations that machine learning provides them. Many brands are now using artificial intelligence to connect with customers correctly. Amazon started with the use of AI for recommending products to people based on previous searches, purchase orders, and views. The implementation of AI, when done in the right way, will be extremely advantageous for the business. Thus, you must look for a digital marketing company in Gurgaon and find someone with proper knowledge about AI implementation. It will help you achieve better results for your business.
AI itself is quite dynamic in the marketing world. Here's how it will be helpful for your business.
1. Content generation
AI can create content from scratch based on the data feed available. This can be extremely helpful for saving resources and time. AI will be able to write news-based reports on data or information. In fact, automated journalism is now seen on big news joints like The New York Times, BBC News, etc. Facebook is also making use of AI to remove any fake news from the platform.
The relation here can be extremely advantageous for the digital marketing strategy. When used correctly, it will be a great skill extension you already have. But considering help from a good digital marketing service provider will be good. As they know the AI tools, they will know how to use them correctly to create the right content for your business.
2. Product recommendation
AI can help recommend products and services based on the previous search of the user, behavior, and the search. AI understands the behavior of the target audience and what will be a better product or service that will fulfill their needs properly. For instance, you must have noticed that Netflix recommends content based on your interest. Artificial intelligent technology will be extremely advantageous for making personalized content recommendations that the users will find interactive and interesting.
But implementation of AI in the business can be a bit tough. So considering support from a good digital marketing agency like Funnel Media will be extremely advantageous to achieve better results as pre-determined.
3. Online searches
The search engine has evolved and changed greatly. Marketers now need to change and create content based on the new rules or upgrades. Implementation of new innovations like Google algorithm, voice search, or AI advances is making a major difference. There are other innovations like Microsoft Cortana, Apple Siri, Amazon Echo, and Google Home, where one can perform service simply by voice command.
The brands can use the AI algorithm to ensure that when the person searches for a specific thing online, they can find the business. This can be done with the skills and expertise of a good digital marketing agency. They have got proper knowledge about the implementation process and can guarantee better success for the business.
4. Digital advertising
The use of AI in digital marketing is quite wide. It ensures maximum success across platforms like Google, Facebook, Instagram, etc. It helps provide the best experience. It will analyze the user information, interest, age, gender, etc., and show them relevant ads. With the use of technology, brands can target the market and get in front of the audience to improve business performance and sales.
Besides, the data that the AI will collect can help come up with static decisions. Thus, the brands will be able to reduce digital advertising waste and ensure that they are able to spend on marketing strategies that deliver the best possible results.
5. Email marketing
Brands can make use of AI tools for customizing emails to reach out to the target audience better. They can even personalize the content based on customer preference and behavior automatically. Machine learning here can help determine the best day or time of the week to contact the user. They recommend the frequency by analysis of millions of data. One cannot understand which content will be able to get the audience's attention and which will be able to bring in more clicks. When the strategy is implemented well, the results will be quite effective for the business. However, here assistance from a good digital marketing service provider will make a major difference. After all, it ensures that you can use email marketing in the right way and get maximum benefits from it.
Conclusion
The use of AI in digital marketing can be extremely advantageous. Although AI will not be able to entirely replace the human job, it can help reduce the workload and bring out the best results. So if you are planning to look for a digital marketing company in Gurgaon that can help you with your digital marketing goals or business, then you can consider trusting Funnel Media. They have a well-known name in the industry. Their experts are certified in the job. With years of experience, they can develop a customized plan that will work well for your business goals and help you achieve the results better. Irrespective of business goal or size they can help get the results faster. They are trusted for the quality of services they provide. You can connect with them to get affordable price services as and when needed.