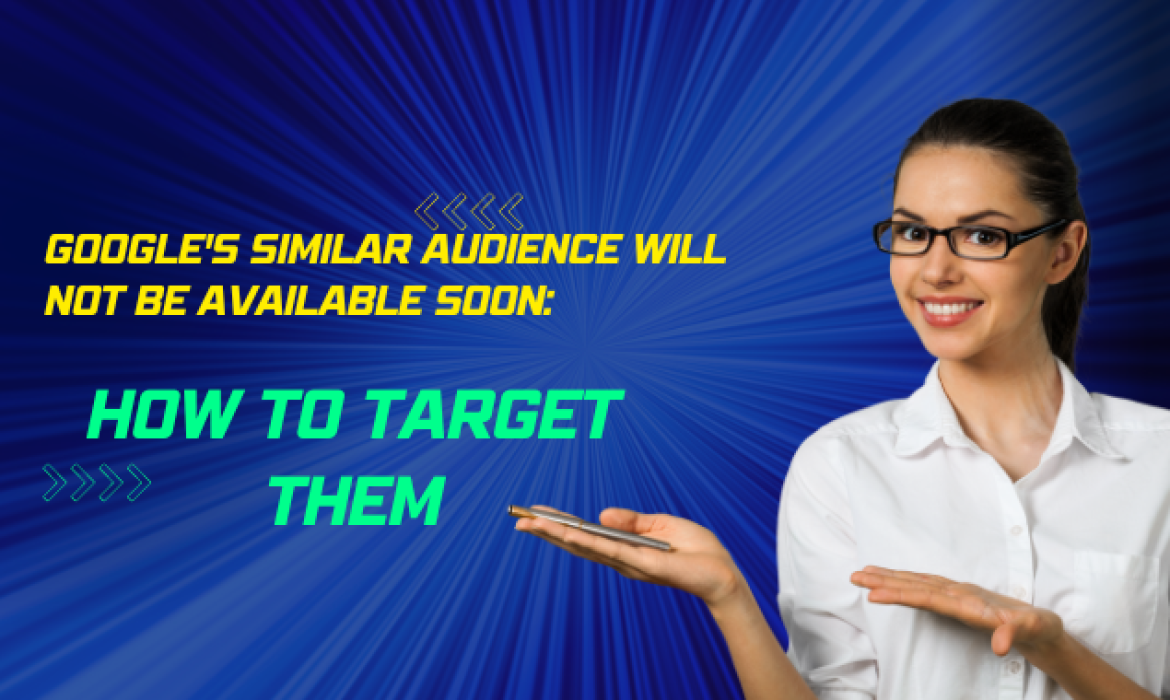 Changes are not just confined to the purchasing behavior and demands of the customers but businesses must also be ready to understand how the digital marketing platforms are changing their features to adjust to the ever-changing global e-commerce market. Your target customers are already using Google to look for anything and everything. Google has been enjoying the monopoly of being the top online advertising platform for the last two decades. It is hard to imagine a world without Google because it has remained relevant to current trends by introducing different features for B2B and B2C marketing. When it comes to sailing above the competition and thinking outside the box, Google has efficiently done that by eliminating major features from its ad campaign platforms to maintain a flexible approach to the modern world's challenges.
However, it has become hard for businesses to accept the changes that took place after Google announced that "Similar Audience" would not be available soon. Companies are hiring a digital marketing agency in Gurgaon to keep their businesses growing using Google Ads. How will you grow your business when Google's similar audience will not be available? What would your strategy be to target your audience? Let us understand Google's similar audience and find various options to target your potential customers using effective methods.
Understanding the use of Google's similar audiences
"Similar audiences" is a Google digital marketing tool to find look-a-like audiences for your brand.This tool compares purchasing behavior of your current customers (from the list you have already provided to Google)with those using different Google platforms to search for products. There are various parameters the tool uses while comparing what type of products or services are being purchased, how often the user is visiting your website, and the search pattern of the new audiences. Businesses leveraged the benefits of similar audiences in various digital marketing campaigns. The individuals that Google ads to similar audiences for your convenience will have similar purchasing traits that you have already mentioned. It will not look beyond the parameters provided by you. The comparison of parameters and a new audience list is entirely automated by Google.Similar audiences have done wonders for different brands that are competing in the current market. If you are still relying on your advertising strategies for similar audiences, you need to look for different strategies to keep your business growing. By the third quarter of 2023, Google will discontinue similar audiences for all campaigns.
Reasons to discontinue Google's similar audiences
There is no denying the fact that similar orders have helped several businesses grow their brand and reach out to potential customers. However, the digital marketing world is constantly changing as the behavior of customers and online strategies are used by global eCommerce marketers. People today are more aware of how many companies use their personal information. They want brands that are safer and aim to protect their personal information. Safeguarding customers' data has become a major challenge in digital marketing on campus. Hence, Google has decided to address the problem and stay relevant to the changes affecting the purchasing behavior of current buyers. Due to this Google has made a strong move to remove Similar audiences.
How will you target your potential customers without similar audiences?
We all know how important is Google's Similar audiences for businesses whose marketing strategies are designed around a similar audience list. There are ample different opportunities that you can utilize to successfully run your online advertising campaigns. Here are the major targeting strategies you can rely on when similar audience will not be available.
Businesses must strategies their online ads to attract potential customers from a large group of people efficiently. If you have already utilized online advertising opportunities, you will know how important it is to optimize your campaign to meet the needs of the current trends. Once you have optimized your video campaign you can rest assured of improving your brand visibility. It becomes crucial for brands to become noticeable among the ocean of competing ventures. Through optimized targeting,your brand will attract a relevant spectrum of audiences who have a greater probability of becoming your loyal customers. Unlike similar audiences, the horizon of optimized targeting is much larger because you are no more relying on some set parameters.Let's find out when is the right time to include optimized targeting in your digital marketing campaign.
To gain the attention of those people who are more interested in your brand and becoming your customer.
To improve your conversion rate and expand the list of your current customers so that your annual profit gets improved.
To minimize the expenditure in bidding strategies and cost per conversion.
The best way to reach your target at gold for the company is by using an audience expansion strategy. When you set up your Google ad, the main focus should be to relate to your potential customers. The mindset of people has changed a lot with the advancement of technology around them. Changes in the buying behavior of potential customers have compelled businesses to adapt to the needs of customers. If the core motive of your video advertisement is to improve the visibility of your brand and gain a deep reach into your core demographics, audience expansion is perfect the tool for you. To make sure that your strategy for audience expansion works efficiently and smoothly, there are factors that every business owner needs to think ahead of.How much you are willing to pay for the online video ads?What is the size of your core demographics? Once you have the answers to these questions you are ready to expand your horizon to a whole new level and open your doors to relevant people who are more inclined to purchase from your brand. You can hire the best digital marketing company in Gurgaon to gain insight into the upcoming changes.
Smart building is a Google tool that runs automatically for business campaigns to help companies efficiently improve their building strategies. The artificial intelligence software used by Google enables brands to be always ready for the next bidding. The algorithm is designed in such a way that it facilitates the need of every marketer by reducing the extra expenses on every conversion through optimization. All you have to do is to mention what you are aiming for from your digital marketing campaign whenever you start a new one.You must have a clear understanding of what your financial limit weight comes to expanding your business and how you want to use your resources in your new campaign. The type of audience that you wish to target will also affect your smart building strategy. For smart buildings, brands are not allowed to use customer data obtained from different online platforms. The privacy measures acquired high using the smart building.
Final words
When you start a venture, you would want it to thrive through every marketing challenge and reach the business goal. Once you have put in your resources in digital marketing for your business, managing the resources and utilizing their full potential is critical. By modifying your ad campaigns with the assistance of digital marketing services in Gurgaon, you can easily get ready for upcoming changes. Businesses need to be flexible enough to adjust to the changes that are going to occur with the removal of Google's similar audiences. It is considered to be a major head-on business who are using similar audiences in there digital marketing ads. There are many other alternate targeting options that companies can use to drive a better customer pool. Whether it is a new venture or a thriving business, being visible to their core demographics is what every business needs.