Google AdWords vs Facebook Ads: Which One is the Right Platform?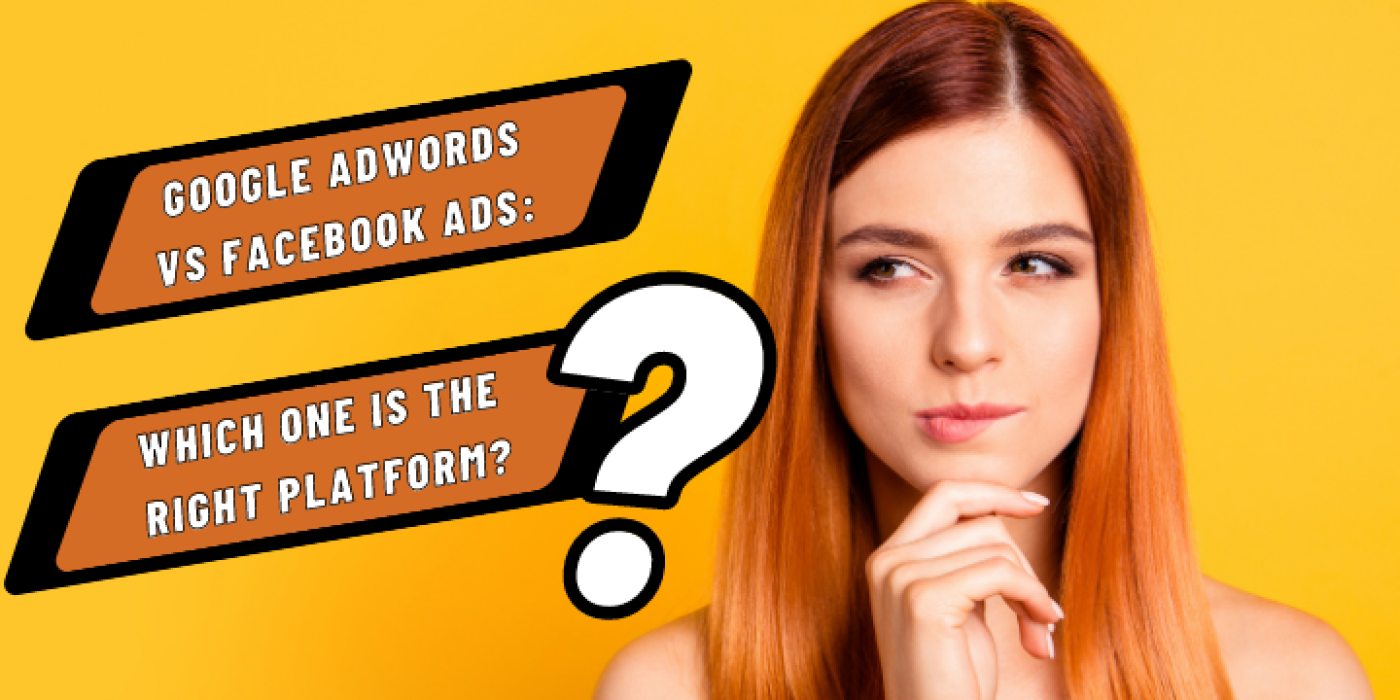 If you want to grow your business organically and reach out to a larger group of your target audience, you need to opt for paid online advertising campaigns. It is the best and most effective way to improve your brand's image and gain visibility. Though there are several digital marketing platforms for every business need, you should choose the best ones. As you can see, the majority of people are using Google and Facebook to gain information and stay relevant to the current trend. As a business owner, you can leverage this opportunity by hiring the best digital marketing company in Gurgaon.
We all know that Google and Facebook are leaders in their respective domains. They can help you increase your business visibility, improve your sales, and gain more customers. Which is the right platform to advertise your brand?There are a few major considerations that you should think about before finalizing a platform. In this article, you are going to get a clear picture of what are Google AdWords and Facebook ads and how they can help you run a successful digital marketing campaign.
Define Google AdWords campaigns
You do not have to get confused with Google AdWords and Google ads. They both are the same. Google AdWords is now commonly known as Google Ads for a couple of years. It is a Google platform where companies advertise their products and services. By collaborating with the Google AdWords campaign you can advertise your brand to appear in the list of Google search results as well as in various other potential platforms that are linked with Google.
Using Google AdWords, businesses can reach out to those who are looking to avail their services and products. Once you use the expertise of a reputed Digital marketing agency in Gurgaon, you will open the doors to explore the possibilities with Google AdWords campaigns. Most of the people who have internet access are using Google searches. Thus, brands have a good opportunity to digitally attract new buyers by offering them the solutions for which they are using Google search.
Define Facebook Ads campaigns
If you think that Google has better reach than Facebook you should think again. Both are dominating digital marketing campaigns in their respective domains. Facebook ads work differently than Google AdWords. First, understand that people who are on Google are looking for solutions while people who are on Facebook might not be looking for solutions.So you have to strategies your digital marketing campaign according to the preferences of your target audience.
More than 1.18 bn individuals are on Facebook every day. Once you are up for paid advertisements on Facebook, your brand gets directly visible on the seeds page of your target customer as a post. When Facebook users scroll down through the feeds of their social friends, your ad will pop up on their screen like any other post.
Google AdWords vs Facebook Ads: How to grow your business?
Competition is constantly growing by every quarter of the year. It is time for your brand to show its full potential in the e-commerce market. Digital marketing services in Gurgaon give you this opportunity. Consider the major questions to help you decide which advertising platform is right for your digital marketing campaign.
What are your business goals?
If you are in the mindset that Facebook is not as impactful as Google, you need to understand that both paid advertising platforms work differently. They are designed to meet the needs of different businesses with different goals. Rather, you need to find out why you want that specific platform to run your brand advertisement. You need to prioritize your business goal and then think about how both advertising platforms are contributing to helping your business grow faster and better. Think about why you want to use Google AdWords or Facebook ads.
Do you want to create a brand image?
Do you want to attract more people to engage with your brand?
Do you want to bring more traffic to your website and convert them into customers?
Do you want to expand your business by improving your financial revenue?
Do you want your brand to sponsor big events to stay relevant in the market?
These are the basic questions that you need to ask yourself when you are comparing Google AdWords with Facebook Ads for your business goals.
Investing in paid advertising on Facebook can be fruitful if your core motive is to create a brand image engage more people with your brand to convert them later on as your customers and stay relevant by partnering with big event organizations. However, Facebook ads are not meant to show results in terms of sales. Facebook users are there to socialize with other people and not buy anything.In Google AdWords, you can easily boost your sales percentage to many forces because people are on the Google search page to buy something. Google effectively helps buyers to reach their preferred brand by showing their products and services on their search page.
What is the nature of your business?
You need to consider the niece of your business so that you can have a better understanding of your target audience. If you are setting up a new venture, might not be easy to appear on the first few pages of the Google search. It will defy your digital marketing plans to generate more sales from search engines. You need to recognize that if you are starting a new business, competition in your particular niche will be high unless you are selling something out of the box. Since people are unaware of your brand, they might not be able to reach your website. All the driving businesses will already be acquiring the top position in the Google search engine list.If you are a business owner of a company marketing a unique niche or a different product, investing in Facebook ads is the right choice. It is better to start by making people aware of your products and brand instead of investing your hard money in targeting your potential clients without much brand awareness.
How much are you planning to invest?
It is essential to understand where you stand financially when investing in a paid digital marketing campaign. When putting your hard and money into something crucial for your business, you need to think wisely. Setting a financial budget is very important to manage your resources. The amount of money that Facebook ads and Google AdWords charge from the brands to advertise their products is different. The money spent on Facebook for every click on your product is lesser than what Google AdWords charges. But, it is interesting to know that businesses tend to gain more customers via Google AdWords through every click. The overall profit that you might have can be more by using Google AdWords than Facebook ads.
Final words
Picking either one is not an easy nut to crack unless you know what you want from the digital advertising campaign. Prioritize your goals and preferences accordingly. Estimate how much time you want to give to a particular campaign to show you results. Don't get confused by what other businesses are choosing to advertise their brand.Hire a reliable digital marketing company in Gurgaon to make the process easy. Consider all these essential factors that can affect your digital marketing campaigns. Google AdWords and Facebook ads are impactful and effective in growing your business and staying at the top of the competition.